Previously I wrote about Common Encryption (CENC) for CMAF in The DRM Blog. Since then we have seen a big movement towards a common specification. With Apple's iTunes as the reigning consumer platform, Google and Microsoft have both moved towards this common spec to support the same encryption spec as Apple while still maintaining their respective format and platform strengths. That combined with Microsoft's PlayReady DRM still being the market leader, Google's Widevine a close second and Apple's FairPlay a distant third, leads us towards the center of a very complex Venn diagram.
As we have predicted, Microsoft has announced that PlayReady will support AES-CBC encryption by the end of this year. That should finally bring us to a world where all 3 major DRM systems (PlayReady, Widevine and FairPlay) all support the same encryption algorithm. This should enable true interoperability between the various consumer media formats (HLS, DASH and MSS), and our customers should be able to encrypt once and playback everywhere. Only time will tell how quickly this convergence happens but the genie is now officially out of the bottle.
DRM Industry Optics
From a broader perspective, usage of different encryption algorithms was only one part of the DRM Convergence problem. Other inconsistencies across DRM systems included the underlying container format they were based upon or expected to contain. Widevine and PlayReady expected ISOBMFF (DASH ISO/IEC 14496-12), while FairPlay expected MPEG2-TS (HLS). This problem is at least solvable on the client side, and BuyDRM has had a player for on-the-fly conversion of encrypted HLS with PlayReady into MPEG-DASH for quite some time already. However, this was also resolved this time by Apple, who announced a move to fMP4 (ISOBMFF) chunks for HLS ( link works in MSFT Edge on Windows or Safari on OSX or through WWDC App. ) Again, this incremental movement towards a universal Encryption/Format specification is driving the market to a resolution of this DRM convergence problem.

Great Expectations
So, it seems like once all the promised roadmaps items are released it will finally be possible to encrypt a video asset once and play it back everywhere. In theory that should be true, however there still are some implementation details which could render the whole DRM convergence movement unviable. For example, the CENC specification defines multiple schemas on applying encryption: CBC1, CBCs and CENC. It is not clear at the moment if all DRM systems will support all of these encryption schemas. If not, we could end up in a very messy environment where again we'd have different flavors of encryption for different DRM systems. Another potential problem could be that Apple will get very aggressive in pushing HEVC, which is something that was mentioned extensively on WWDC 2017. If that happens and Apple drops support for H264, we'd again have a very fragmented landscape, since not all DRM-enabled clients support HEVC yet and just like its predecessor, there are considerable royalty issues to be taken into account before deploying.
The Unified Future
It is the opinion of BuyDRM's CTO and CEO that all of this movement points to the fact that we are closer than ever to a one unified DRM-protected mezzanine asset. BuyDRM is happy to announce that we have already updated various components of the KeyOS Multi-DRM Platform and are currently testing the KeyOS MultiPack Server with support for CMAF and CENC 3.0.
The world is still waiting for the technology to arrive to various industry playback clients, and it will likely take another couple of years for people to switch to CMAF exclusively. Android older than 7.0, iOS older than 11, OSX older than High Sierra or Windows older than Windows 10 are unlikely to fully support CENC 3.0. However, BuyDRM is very optimistic about the future and we are positioning the company and the KeyOS Platform to embrace these imminent changes now to the benefit of our customers and partners.
---
Register to Attend Our FREE Webinar on July 11th with Broadpeak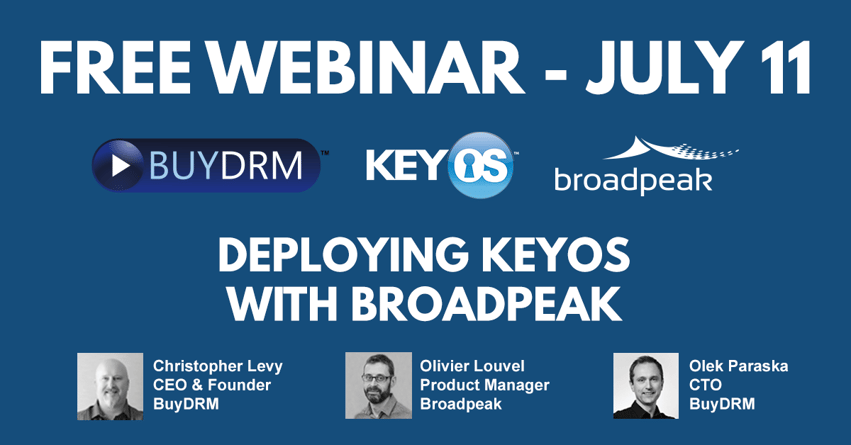 ---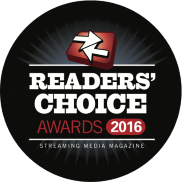 BuyDRM's KeyOS™ Multi-DRM Platform 2016 Recognitions
BuyDRM is proud to announce our inclusion in The 2016 Streaming Media 100: The 100 Companies That Matter Most in Online Video in 2016. This is our fourth consecutive year of being recognized as a top innovator in the field. BuyDRM was also recognized as the runner up for the 2016 Streaming Media Readers' Choice Awards for DRM/Access Control Service Providers, once again proving our solutions as being one of the most comprehensive and widely deployed in the world.

BuyDRM – Your Single Source for Multi-DRM Solutions
Offering PlayReady, Widevine, and FairPlay, we can help you deliver protected content to any device in any situation whether online or offline or both.
Established in 2001, we are a market-leading Multi-DRM service provider. Over the last fifteen years we have seen drastic changes in the content protection arena as a variety of new technologies have entered the marketplace. Through our pioneering efforts in this field and decades of experience in digital media, we have your bases covered with the KeyOS Multi-DRM Platform supporting PlayReady, Widevine, and FairPlay DRMs. KeyOS supports all of the popular consumer platforms and business models.
Want to Learn More?
If you are either just beginning your search or are a seasoned streaming media pro, we think our team can help you.
Contact us to learn more about our solution. We would be happy to setup a call to evaluate your scenario and find out how we can help you. Our consultations are always free. Our KeyOS platform powers the biggest names in media across the globe and we are eager to assist you as well.