A recent article on Streaming Media magazine brought up a point that Common Media Application Format (CMAF) is not good enough when it comes to encrypted content. At BuyDRM we are pretty excited about CMAF, and we have adopted a slightly more optimistic point of view.
[Please see update made on this topic on June 14th, 2017 here]
The idea of Common Media Application Format has been around for quite some time already. BuyDRM has been moving towards it since 2012. Those days it wasn't possible to download Smooth Streaming assets in Silverlight and then play them back offline. So BuyDRM's KeyOS Player downloaded the highest possible bitrate chunks from a stream and stored them all in one file together with the manifest. In its essence CMAF is a standardization of that idea of combining asset fragments and a manifest in one file.
Retrospectively, the CMAF takeoff event was Apple announcing support of fMP4 chunks in HLS on their platforms. That gave hope to the idea of "one silo to stream them all", which was the industry's Holy Grail for quite some time already. It meant it would be possible to stream both HLS and DASH from the same source, which accordingly, meant cutting storage and overhead prices in half.

CMAF resolves a lot of challenges indeed. However, there is one nuance in section 8.2 of CMAF specification, which defines content encryption. On one hand, it merely defines that content has to be encrypted using Common Encryption, which seems fairly straightforward. But now, with Apple and its preference of AES-CBC encryption in the mix, the Common Encryption specification itself has evolved to include both AES-CBC and AES-CTR encryption schemas. This means that a CMAF file can be encrypted in 2 different ways, which are mutually incompatible.
It would seem that just like that, CMAF will fail to deliver on its promise of a unifying file format. If it is still needed to store 2 versions of one asset the improvement isn't exactly noticeable. Concluding that would be a pessimistic point of view, however. The saving grace of CMAF is that it will allow for flexibility and it will be up to DRM systems operators to adapt to the constantly changing marketplace. As of now, Google Widevine has already added support for CBC encryption in Android N and on the Chromecast platform which means no matter what encryption schema is used, your content will play back on Google's Android platform and platforms that support Widevine.
With the CMAF standard rumored to be ratified in February, 2017 we are still waiting for clarification from major OEMs like Microsoft, Google, and Apple regarding support for both encryption schemas. The fact that neither Microsoft nor Apple have publicly presented their vision yet and that both of them are initiators of the CMAF specification suggests CMAF may still be saved.
Taking all of this into account, the future compatibility between CMAF and CENC seems a likely reality in 2017.
Subscribe to The DRM Blog and get the 2016 DRM Deployment Guide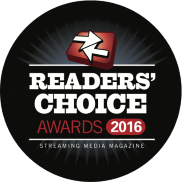 BuyDRM's KeyOS™ Multi-DRM Platform 2016 Recognitions
BuyDRM is proud to announce our inclusion in The 2016 Streaming Media 100: The 100 Companies That Matter Most in Online Video in 2016. This is our fourth consecutive year of being recognized as a top innovator in the field. BuyDRM was also recognized as the runner up for the 2016 Streaming Media Readers' Choice Awards for DRM/Access Control Service Providers, once again proving our solutions as being one of the most comprehensive and widely deployed in the world.

BuyDRM – Your Single Source for Multi-DRM Solutions
Offering PlayReady, Widevine, and FairPlay, we can help you deliver protected content to any device in any situation whether online or offline or both.
Established in 2001, we are a market-leading Multi-DRM service provider. Over the last fifteen years we have seen drastic changes in the content protection arena as a variety of new technologies have entered the marketplace. Through our pioneering efforts in this field and decades of experience in digital media, we have your bases covered with the KeyOS Multi-DRM Platform supporting PlayReady, Widevine, and FairPlay DRMs. KeyOS supports all of the popular consumer platforms and business models.
Want to Learn More?
If you are either just beginning your search or are a seasoned streaming media pro, we think our team can help you.
Contact us to learn more about our solution. We would be happy to setup a call to evaluate your scenario and find out how we can help you. Our consultations are always free. Our KeyOS platform powers the biggest names in media across the globe and we are eager to assist you as well.