In this post we hope to give a public explanation of the fees one can expect to incur when deploying DRM services and solutions. One of our top questions that we see on a weekly basis is "why aren't your prices posted on your website"? The main reason for this is that we have multiple offerings for multiple technologies.
In fact, we have about eight different pricing tables for about four different technologies. Without knowing more about your requirements for the project at hand, to post them would only cause confusion instead of clarity.
Instead, we would rather have a chance for a quick call to identify which portions of our offering are the best fit for your project.
BuyDRM offers both DRM as a Service and DRM as a Solution. The fees incurred for deploying one or the other are very different. Below, we will sort through the different technologies and how they fit into your budgetary requirements for a DRM deployment.
DRM as a Service – Pay as You Go
To deploy DRM as a Service, expect costs to be very manageable and dependent, primarily, on how many licenses that you will need on a monthly basis. One would expect to pay a one-time setup fee that is based on the size of the deployment, yet still very manageable. Each month, a predetermined bucket of licenses is included with an ongoing monthly fee.
If you exceed your monthly bucket of licenses, there are overage fees that are variable and based on usage. The more that you use, the cheaper the licenses become. In this subset of offerings, we have three different pricing models. One for small to medium businesses, and two for larger OTT deployments.
DRM as a Service – All You Can Eat, Unlimited Licensing
For larger operators and deployments, we also offer the option of an all you can eat unlimited licensing platform. Such a plan allows for growth, while eliminating variable costs one might occur on a pay as you go plan.
For such instances, we generally setup managed, dedicated licensing resources for each deployment and then load balance and operate and monitor them as part of our Global Operations.
All you can eat plans are ideal for those wishing to eliminate variable operating expenses, they facilitate deeper more-secure integrations and enable you to focus on other aspects of the deployment that may not be so flexible.
DRM as a Solution – Software License
In late 2017, BuyDRM released our newest offering – an On-Premise / In-Network forward deployed licensing platform. Designed primarily for the transportation, hotel and hospitality industries, this solution can be run in disconnected environments or on local or closed networks. Our MultiKey Server is also in use by major studios that prefer to bring complex DRM requirements in-house.
A software license includes pricing that is substantially different than DRM as a Service. Expect to incur a higher one-time CAPEX fee combined with unlimited licensing and an ongoing monthly service and support fee. There are also variable fees that are optional and based on the use of more than one server, or other solutions like packaging and encryption tools or SDK's for devices.
Other Optional and Variable Fees
While our DRM offerings are described in detail above, there are still other offerings that you might need for your deployment. If you aren't using one of our many partners for encoding and packaging content, you may need to deploy MultiPack Server - our packaging and encryption tool. MultiPack is an NGINX-based solution that offers just-in-time encryption for both live and VOD. It ingests MP4s and outputs the appropriate streaming format (HLS/DASH) encrypted with the appropriate DRM (PlayReady, Widevine, FairPlay) based on the playout platform(s) that the content is being consumed on.
MultiPack is available to encrypt and package unlimited amounts of content for a fee that is due at signing and then annually afterwards.
Still yet another option remains - If you plan on offering premium apps for iOS and Android, you will probably want to consider our MultiPlay SDK's. Like DRM as a Solution and MultiPack Server, our MultiPlay SDK's are offered as a Software License. Pricing for these include a one-time software license fee, an ongoing annual fee and three different royalty models that you can choose from based on the size and type of deployment.
What About an SLA?
Regardless of which of our services and solutions that you need for your deployment – we guarantee 24/7/365 support with a 99.999% Service Level Availability (SLA). Rest assured knowing that you can expect to have little to no issues with nearly zero downtime from our smallest pay as you go plan to our most aggressive software solutions.
Reach Out Today
As shown above, we offer complex services and solutions for complex streaming problems. Because of this, there are several different service options combined with multiple solution options. Its always best to learn more about the exact requirements of each project in order to recommend the appropriate products that meet your needs best.
As such, we welcome your inquiries and questions that in the end will help us serve you better. Do not hesitate to reach out to us directly by filling out the contact us form on our site. Also, be sure to subscribe to the blog in order to get instant notifications as soon as we release a new post. If you have a DRM provider today, we can help you review what you are buying from them and make an "apples to apples" comparison for you to consider.
We hope this Blog post has helped you review your DRM purchasing strategy and should you decide to become part of BuyDRM's present and past pedigree, we look forward to working with you.
---
The KeyOS Widevine Everywhere Program
Find out more by clicking below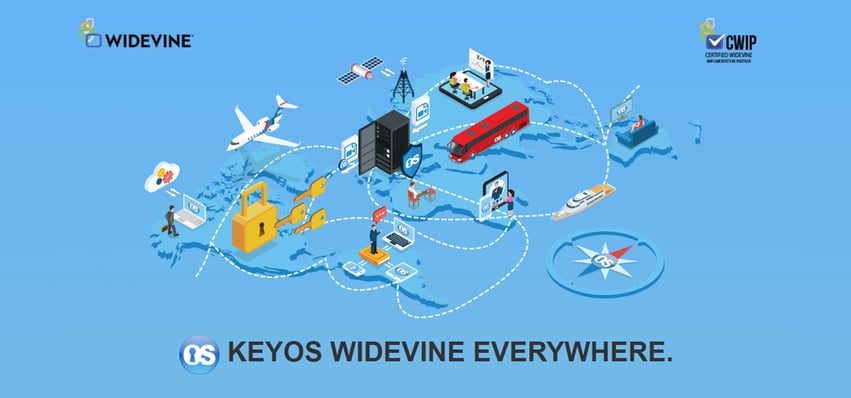 ---
View Past Episodes From Our "Spotlight On DRM" Webinar Series
---
BuyDRM – Your Single Source for Multi-DRM Solutions

Offering PlayReady, Widevine, and FairPlay, we can help you deliver protected content to any device in any situation whether online or offline or both.
Established in 2001, we are a market-leading Multi-DRM service provider. Over the last fifteen years we have seen drastic changes in the content protection arena as a variety of new technologies have entered the marketplace. Through our pioneering efforts in this field and decades of experience in digital media, we have your bases covered with the KeyOS Multi-DRM Platform supporting PlayReady, Widevine, and FairPlay DRMs. KeyOS supports all of the popular consumer platforms and business models.
Want to Learn More?
If you are either just beginning your search or are a seasoned streaming media pro, we think our team can help you.
Contact us to learn more about our solution. We would be happy to setup a call to evaluate your scenario and find out how we can help you. Our consultations are always free. Our KeyOS platform powers the biggest names in media across the globe and we are eager to assist you as well.