We are proud to announce that BuyDRM now supports Apple FairPlay!

Continuing our trend as a pacesetter in the DRM space, we now offer nearly every DRM technology available via our OTT multi-DRM platform, KeyOS. The KeyOS Smooth DRM Service supports all popular browser combinations and playback platforms.
KeyOS OTT Multi-DRM Platform
As a major provider of OTT multi-DRM solutions to broadcasters, studios, and Fortune 500 companies, BuyDRM continues to expand the features of the KeyOS Platform. We now deliver PlayReady, Widevine, Marlin and FairPlay licenses to any modern browser with HTML5 playback without the use of plug-ins. We will make an announcement about further brands in the coming weeks prior to IBC. Subscribe to The DRM Blog to stay up-to-date and click here to schedule an IBC meeting.
KeyOS FairPlay Integration Overview

(click image to enlarge)
What You Need to Know to Deploy:
To support FairPlay in the KeyOS Smooth DRM Service, a BuyDRM customer / content owner must get a FairPlay Streaming license and a FairPlay Streaming Server SDK from Apple. The BuyDRM customer then provides their private key and application secret key to BuyDRM and we use this to enable content encryption and license key delivery for our KeyOS SmoothDRM Service for FairPlay.
To apply for an Apple FairPlay Streaming SDK License Click Here.
KeyOS Compatibility Matrix:
Internet Explorer/Edge = PlayReady in HTML5 on Microsoft Windows
Google Chrome/Mozilla Firefox = Widevine

in HTML5 on Microsoft Windows and Apple OSX
Safari = FairPlay in HTML5 on Apple OSX
BuyDRM provides a FairPlay packaging solution for your Pantos Spec HLS content and a FairPlay DRM licensing platform. Both of these solutions work via APIs and our implementation is compatible with major playback solutions like JWPlayer.
Click here to learn more about JWPlayer's FairPlay DRM support.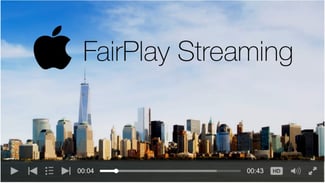 If you have any questions regarding FairPlay, feel free to reach out to us. If you are already a BuyDRM Client, adding FairPlay DRM to your existing KeyOS deployment is a breeze. We also welcome the opportunity to help potential new customers learn more about our award winning, OTT multi-DRM platform.
Missed last week's blog post? Subscribe Now!
"What, Exactly, Is DRM?"

The July 12, 2016 "What Is DRM" feature in StreamingMedia.com is an article packed with meaning. If you're confused by the differences between MSE, EME, CENC, DASH, HTML5, and E-I-E-I-O — this is a great starting resource to get it all straight and see how the DRM industry pieces fit together. The article provides a top-notch overview of business models requiring DRM, definitions of encryption, license management and player options, as well as a concise synopsis of how DRM works generally, including insights into the marketplace, and who some of the mainstream DRM providers are.
Subscribe to The DRM Blog to read "What Is DRM?" and don't miss another weekly post from your new official source for all things DRM!
IBC is Getting Closer!
With less than 30 days to go before the IBC conference in Amsterdam, our schedule is filling up quickly. We would love to meet with you too. Book a meeting by clicking the image below or go to http://go.buydrm.com/meet-at-ibc. We look forward to discussing a roadmap to success for 2017.

The BuyDRM Glossary of DRM Terms and Acronyms
We hope you're enjoying The DRM Blog. As a special thank you for subscribers, we're offering a free, 35-page Glossary of DRM Terms and Acronyms. Click the "Subscribe" button to get immediate access to the document you'll want to print out and keep as a handy reference. We'll be updating the glossary periodically, and subscribers will automatically receive the newest editions. Subscribe now! (Already a subscriber and want the Glossary? Click through and claim your copy!)
BuyDRM – Your Single Source for Multi-DRM Solutions
Established in 2001, we are one of the world's oldest companies offering Multi-DRM services. Over the last fifteen years we have seen drastic changes in the content protection arena as a variety of new technologies have entered the marketplace. As this market has matured, an active ecosystem has formed around them. Through our pioneering efforts in this field and decades of experience in the streaming media industry, we have your bases covered when it comes to a Multi-DRM solution. Offering PlayReady, Widevine, Marlin, Adobe Primetime and FairPlay, we can help you deliver protected content to any device in any situation whether online or offline or both.
Want to Learn More?
If you are either just beginning your search or are a seasoned streaming media pro, we think our team can help you.
Click here to learn more about our solution. We would be happy to setup a call to evaluate your scenario and find out how we can help you. Our consultations are always free.
Our KeyOS platform powers the biggest names in media across the globe and we are eager to assist you, as well.
Subscribe to The DRM Blog

To our current customers – thanks again for all of your support.
To our future customers – give us a chance to earn your business. You'll be happy that you did.