FREE Webinar March 21st - "Deploying KeyOS Multi-DRM With Encoding.com's Cloud Encoder"
Tuesday, March 21st, we will go live with "Deploying KeyOS Multi-DRM With Encoding.com's Cloud Encoder" The webinar will discuss how to encode and encrypt content using the Encoding.com's cloud encoder with the KeyOS Encryption API. There will be a Q&A session at the end. One lucky attendee will receive a Free Gen 2 Chromecast!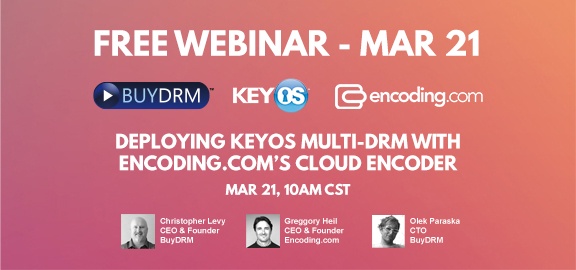 ---
View past episodes from our "Spotlight on DRM" series in our webinar theater!
---
Subscribe to The DRM Blog and get the 2016 DRM Deployment Guide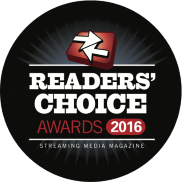 BuyDRM's KeyOS™ Multi-DRM Platform 2016 Recognitions
BuyDRM is proud to announce our inclusion in The 2016 Streaming Media 100: The 100 Companies That Matter Most in Online Video in 2016. This is our fourth consecutive year of being recognized as a top innovator in the field. BuyDRM technology was also recognized as the runner up for the 2016 Streaming Media Readers' Choice Awards for DRM/Access Control Service Providers, once again proving our solutions as being one of the most comprehensive and widely deployed in the world.

BuyDRM – Your Single Source for Multi-DRM Solutions
Offering PlayReady, Widevine, and FairPlay, we can help you deliver protected content to any device in any situation whether online or offline or both.
Established in 2001, we are a market-leading Multi-DRM service provider. Over the last fifteen years we have seen drastic changes in the content protection arena as a variety of new technologies have entered the marketplace. Through our pioneering efforts in this field and decades of experience in digital media, we have your bases covered with the KeyOS Multi-DRM Platform supporting PlayReady, Widevine, and FairPlay DRMs. KeyOS supports all of the popular consumer platforms and business models.
Want to Learn More?
If you are either just beginning your search or are a seasoned streaming media pro, we think our team can help you.
Contact us to learn more about our solution. We would be happy to setup a call to evaluate your scenario and find out how we can help you. Our consultations are always free. Our KeyOS platform powers the biggest names in media across the globe and we are eager to assist you as well.