If you're serious about protecting digital content from piracy and theft, you need a two-pronged approach. Focusing on just digital watermarking or digital rights management (DRM) alone will not protect your content and may threaten rights agreements with studios and other content creators.
Fortunately, solutions exist that provide you with robust protection options. These options allow for significant security options that ensure your content is viewed only by those who are supposed to and when leaked, define your ability to quickly identify the offending user.
BuyDRM's KeyOS Solution Part of the 2019 Oscars Screener Platform
BuyDRM, a leading provider of digital rights management (DRM) and content security services, has partnered with other leading technology companies to deliver a new forensic watermarking feature for use by the Academy of Motion Pictures and Sciences. The technology was used by the Academy Screening Room, a new platform used in the 2019 Oscars nominating and voting process.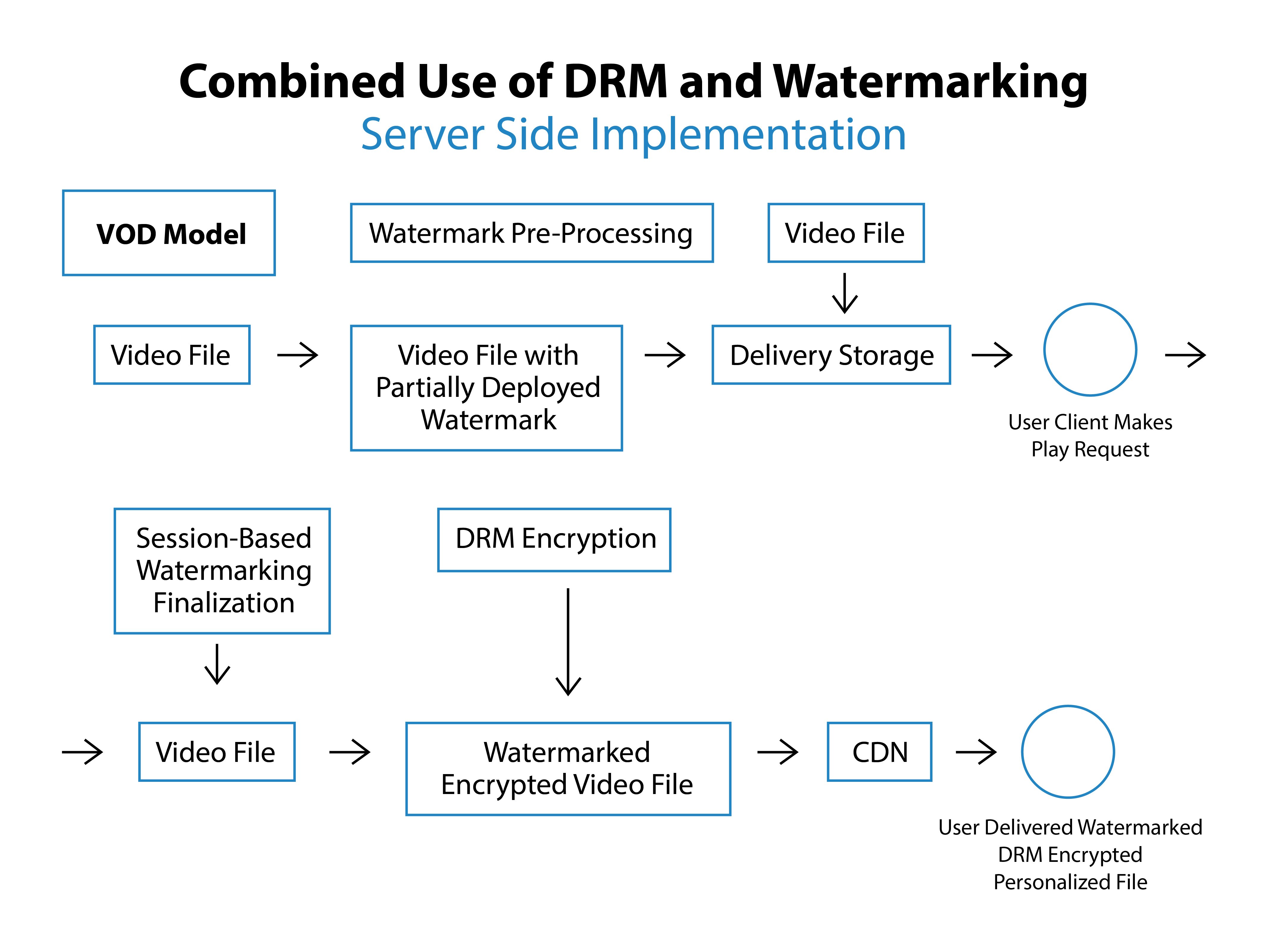 Combined Use of DRM and Watermarking in a VOD Playback Scenario
The process strengthens the necessary security around screening full-length features for the annual recognition of the top movies, talent and technology in the motion picture industry. With the new platform, the Academy can control piracy across its screening platform through the following:
Granting content access with DRM
Auditing content usage on all platforms
Tracking stolen content in the wild
Tracking distribution channels
For years, the Academy, content owners and distributors have struggled with the persistent challenge of curbing piracy. With the new Academy streaming screening platform, Academy voters can watch contending movies on desktops, mobile devices or tvOS applications.
The platform prevents some of the most common piracy techniques, including screen recording of content, recording with other devices or removing video clips. The BuyDRM MultiKey Service technology provides the DRM license key that allows playback of encrypted and watermarked content solely within the Academy streaming screening platform.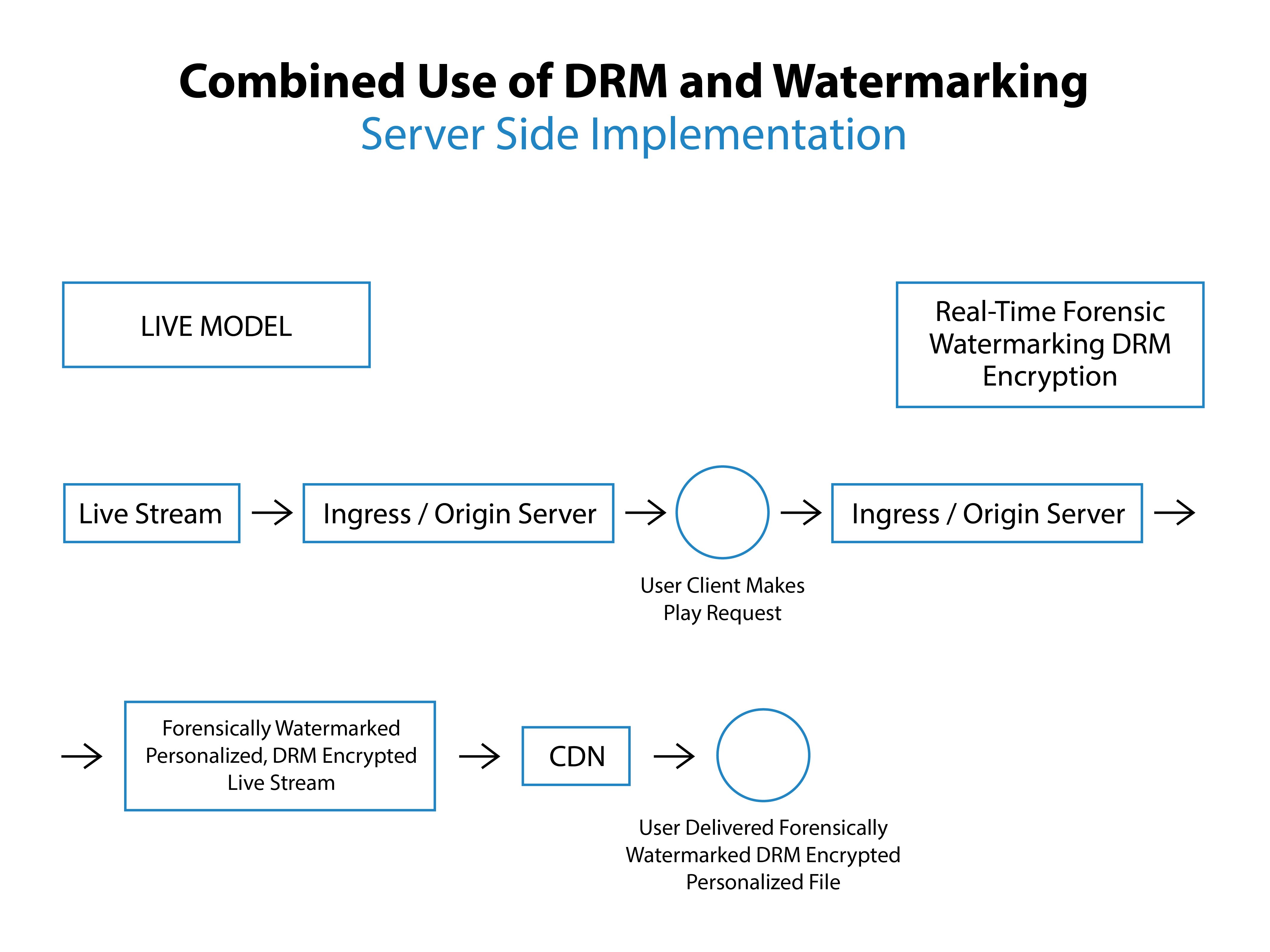 Combined Use of DRM and Watermarking in a LIVE Playback Scenario
Technologies That Go Hand in Hand
DRM technology and watermarking have long been used by studios and other content creators to deter piracy. Distributors wanting to provide high-value video content usually must agree to contractual provisions that require DRM protection. Failure to provide that protection could mean a costly violation of contracts, and the loss of reputation and business.
The technologies provide a compelling deterrent.
Watermarking is a powerful tracking system that allows for forensic tracking of usage. A forensic watermark is an invisible, unique embedded piece of information, that is added to the content. If the content is transcoded, resized, shrunk or altered, the watermark persists and travels with the outputted files.
The traceable watermark means that pirated content can be traced back to the offending user and source easily. Watermarking is done in postproduction after content is encoded but before it's encrypted.
If watermarking is the traceability component, DRM is the lock and key. DRM provides the technologies that allow content to be encrypted at the source, sent to devices and played back, or unlocked, when playback starts. DRM ensures the watermark stays embedded in the video content.
Many of the leading DRM technologies are specific to particular, browsers, devices and operating systems. That's why it makes sense to use a multi-DRM approach to ensure that your content can play back on all possible devices that subscribers or buyers choose to use.
The two-technology approach has multiple benefits of over-the-top (OTT) and other video delivery services, including:
Revenue Protection. Together, DRM and watermarking provide strong deterrents to hackers and pirates. It protects revenue for all players -- video delivery services, studios and content producers
Consumer Value. Most consumers want to pay a fair price to stream video content. Ensuring that your content is protected provides a better consumer experience and value to the cost of your video service
Traceability. If someone shares, posts, uploads or provides content to unauthorized others, the technology combination carries a powerful one-two punch. First, the DRM technology makes it impossible to decrypt without the right DRM-generated keys. And if someone tries to play or share, the activity can be easily traced backwards and forwards.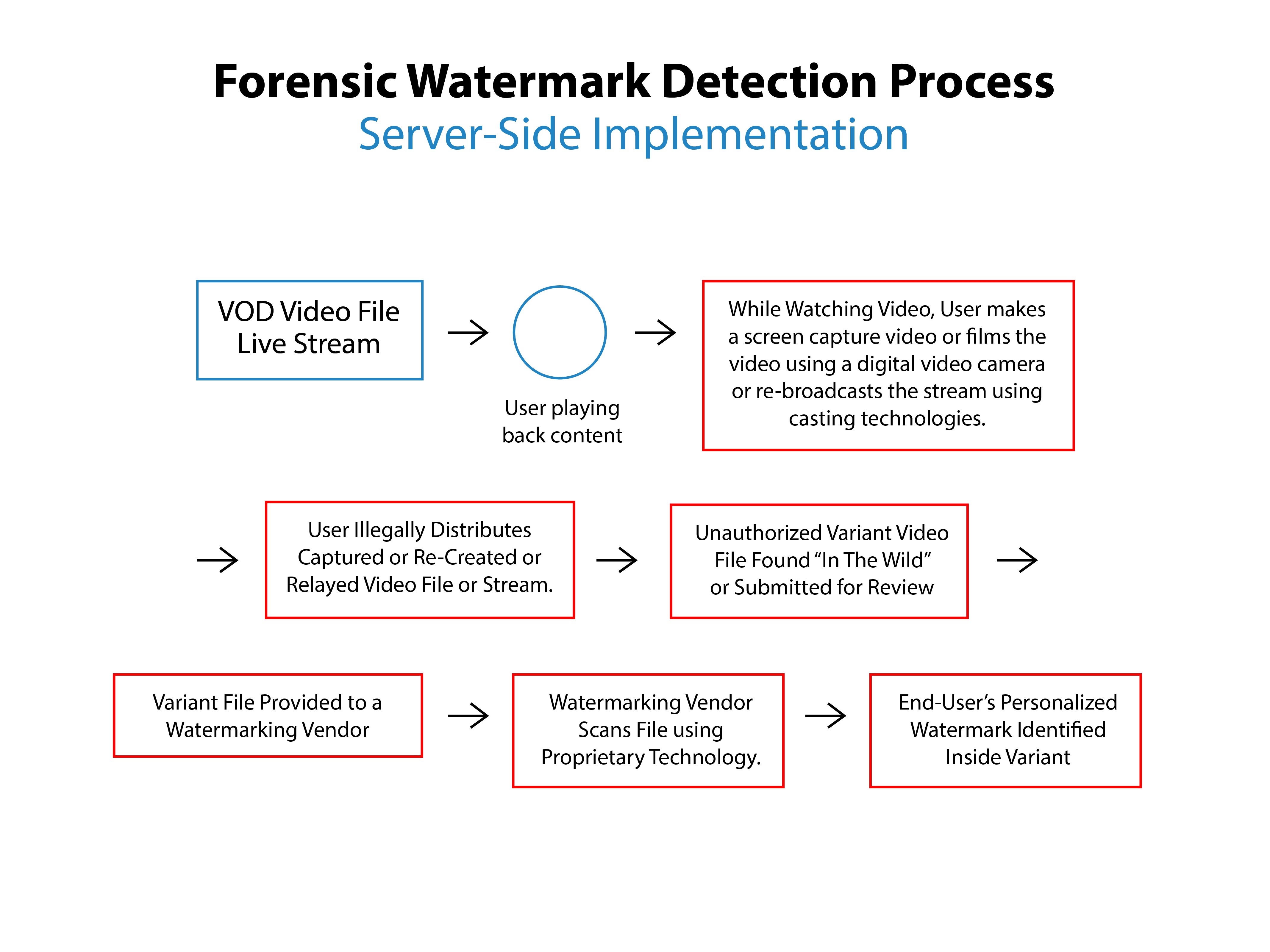 Forensic Watermark Detection Process
One conservative estimate puts the cost of digital video piracy in the United States at $29.2 billion annually. The 2019 report from the U.S. Chamber of Commerce's Global Innovation Policy Center and NERA Economic Consulting points out that 80 percent of piracy in the United States comes from streaming.
Piracy is a significant issue. The study estimates that 26.9 billion viewings of U.S.-produced movies and 126.7 billion viewings of U.S.-made television shows are pirated digitally every year. Digital piracy in the U.S. could be as high as $71 billion annually, representing as much as a 24 percent reduction in revenue.
BuyDRM's MultiKey Service provides industry-standard DRM solutions available on a wide variety of playback platforms that work in conjunction with strong forensic watermarking solutions.
KeyOS is the proven platform of choice for the Media & Entertainment industries to deliver content protection that meets their contractual demands and customer expectations.
To learn more, contact us today.