Since time eternal, the streaming industry has toiled with and extolled the virtues of CODECs and their key enablement of the entire digital video experience. Over the years we have seen vast movements from single vendor solutions like RealVideo and Windows Media Video to solutions more openly supported as standards including H.263 and H.264. Now comes the latest candy in the increasingly large bowl, H.265 (MPEG-H Part 2) or as it's more commonly known. HEVC, the High Efficiency Video Coding standard.
The Early Days:
https://news.microsoft.com/1997/04/07/new-compression-technology-added-to-netshow-2-0-provides-broadcasters-with-widest-range-of-high-quality-codecs/
https://www.wired.com/1997/02/progressive-moves-to-conquer-streaming-video/
https://archive.org/details/Quicktime2.5AppleTechnologyUpdateFebruary1997
Without delving too deep into the myriad of legal and commercial issues around HEVC, and without comparing it to the new upstart video CODEC, AVI, below we take a simple DRM-centric approach to the status of HEVC as it relates to deploying DRM-managed content today for OTT / IFE / Streaming and Download offerings.
Commercial Considerations:
The HEVC Advance patent pool supposedly wants unforeseen amounts of money for usage of HEVC, so instead, many companies (Google, Microsoft, Amazon, Netflix, Cisco, Mozilla) have formed an Alliance of Open Media, which pushes the new video CODEC AV1.
HEVC is aimed at UHD+ content which is commonly also referred to as 4K Content.
HEVC requires a lot of computation on both encoding and decoding sides. Because of this, and a patent situation a typical approach is to make sure hardware acceleration is used for decoding. That puts constrains on target hardware platforms and forces larger royalties to support the long-tail development efforts.
Breaking It Down By DRM Flavor:
Below we describe how each of the 3 consumer DRMs all handle HEVC today:
1. Microsoft's PlayReady: HEVC+Playready is supported in PlayReady. The problem is that there has to be a HEVC decoder on the user's playback system. Microsoft relies on OEMs to pay the HEVC license, so depending on the hardware HEVC can be either supported in Windows or not. Intel CPUs starting from Skylake have support of HEVC (Main/Main10) (that's since 2015). Nvidia GPUs also added support for Main10 profile in 2015, and then added support for Main12 profile in 2016. All these platforms should support PlayReady+HEVC, within the Edge and IE browsers and in Windows 10 apps. There is no software-based HEVC decoding in Windows 10 (Edge or IE). However the list of hardware that supports it is pretty extensive at this point, so for example I have been able to build a test page and playback PlayReady protected content in Edge just fine.
Browsers – in-hardware.
Windows 10 apps – in-hardware.
MultiPlay SDKs – software and hardware.
More information here:
https://docs.microsoft.com/en-us/windows/uwp/audio-video-camera/playready-encrypted-media-extension
And here:
https://msdn.microsoft.com/en-us/library/windows/desktop/mt131743(v=vs.85).aspx
PlayReady HEVC Test Vectors here:
https://docs.microsoft.com/en-us/windows-hardware/test/hlk/testref/725dc757-7fec-4bbc-9941-9bf55d27687
2.Google's Widevine: On paper the situation is similar to Microsoft's PlayReady. Chrome has added support of HEVC, if there is hardware for it. However, that seems to only work on a few Android devices. It is not possible to playback HEVC content in Chrome, even without DRM. However, if it were possible – the DRM piece should just work. It could be that Google starts to push AV1 harder than HEVC. This comes on the tail of them moving away from their own VP 9 CODEC.
Browsers – no.
Electron-based apps – no.
MultiPlay SDKs – software and hardware.
For example, it appears HEVC with Widevine is now supported in Chromecast Applications:
https://github.com/google/shaka-player/issues/651
Google also appears to Support HEVC with Widevine DRM in this document:
https://storage.googleapis.com/wvdocs/Widevine_DRM_Getting_Started_Devices.pdf
They even provide test vector content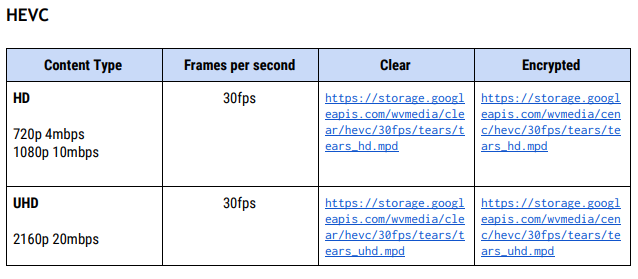 3. Apple's FairPlay. This January, Apple announced they have joined AOMedia, which promotes AV1. It was a big deal, since they boldly announced that they are going all in with HEVC on WWDC last year. Still, it is possible to use HEVC within the Apple ecosystem. Safari on MacOS High Sierra and higher versions supports FairPlay+HLS+HEVC. So does iOS 11.2+ and tvOS.
Browsers – yes on supported Operating Systems.
Apps – yes on supported Operating Systems.
MultiPlay SDKs

– software and hardware.
In conclusion, the presence of HEVC in the digital media industry has been received with great acceptance and support. There continue to be commercial tug of wars around CODECs which may affect HEVCs long-term viability. Today there is wide DRM support for HEVC for UltraHD and 4K content. We hope this information aids you in making critical decisions around how to deploy DRM-managed content and stay-tune for our next update about the AV1 CODEC here at The DRM Blog.
Additional HEVC Resources:
Video Here:
https://developer.apple.com/videos/play/wwdc2017/511/ (Works in IE and Edge as well)
Jan Ozer's Analysis Here:
https://www.linkedin.com/pulse/market-significance-apples-adopting-hevc-heres-what-i-jan-ozer/
MacRumor's Article Here:
https://www.macrumors.com/guide/hevc-video-macos-high-sierra-ios-11/
Great Overview from TechSpot:
https://www.techspot.com/article/1131-hevc-h256-enconding-playback/
Uber Scientific Overview from Fraunhofer Here:
http://iphome.hhi.de/wiegand/assets/pdfs/2012_12_IEEE-HEVC-Overview.pdf
Here is a table that nicely summarizes HEVC browser support:

Table of HEVC Support: Source: https://caniuse.com/#feat=hevc
Data Developed by Olek Paraska