Updated: Dec. 13th, 2016
Update: As it turns out, Amazon had not updated the page for the discontinued Fire TV Stick and in fact, they have released a new version of the product which includes the Alexa technology. From all the research I have done, it appears the "Fire TV Stick 2" as it's being called, is also susceptible to the same modifications as the original product. As of Monday it appears the released the remaining "Fire TV Stick 1" inventory out to their distribution partners like Best Buy who had, up until yesterday, listed it as unavailable. They have put a purchase limit of 4 on the product unless you are an institution.
There are some interesting sites online providing info about the status of Kodi operating on the Amazon Fire TV platform as well: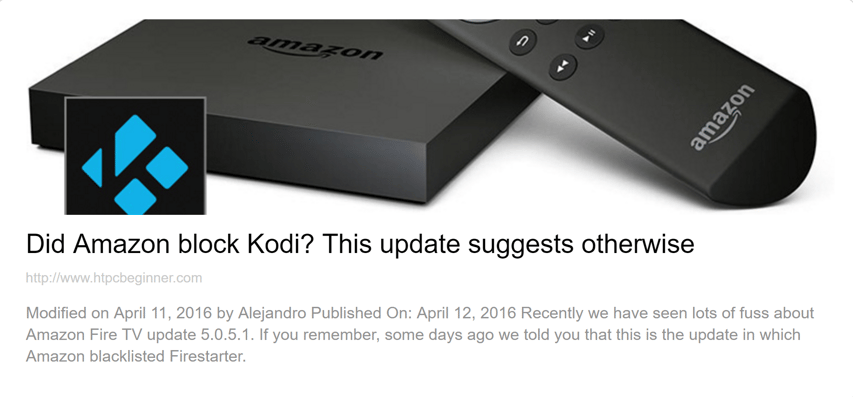 DRM, Kodi and the Death of the Amazon Fire TV StickRecently
I was combing through a local swap site here in Austin and I noticed an ad for "Jailbroken Amazon Fire TV Sticks."
I was immediately intrigued about this offering having worked in the Content Security Industry for going on 15 years now with a specific focus on media. Furthermore my company BuyDRM sold Amazon Music their content security technology for Android and iOS back in 2014 when they launched out. I am a big fan of Amazon and their business and my family not only loves to shop on Amazon.com but we also use their Amazon Kindle Fire product for our child Nahia who is 3. She loves the ease of use, tons of content that comes with the Amazon FreeTime service.
Over the years Amazon has impressed me with their ability to quickly enter new digital media markets. Their Amazon Prime video service has grown substantially in the past few years and as an Amazon Prime customer you now get free access to the entire Amazon Music catalogue, Amazon Prime Video and if you have an Amazon Fire TV puck or streaming stick you can also access loads of "free" content as part of your prime membership. You can also add Amazon Audible for another $60 you get access to the Audible Channels offering and a ton of free audiobooks.
The benefits of Amazon Prime are out of this world: https://www.amazon.com/gp/help/customer/display.html?nodeId=200444160

Hulu, the NBA, Pandora, Showtime GO, DIRECTV Now, NetFlix and many more of the highest value OTT offerings around all run on the Amazon Fire TV platform. The focus of this product brand is for consumers who do not have Smart TVs with all these apps built in or available for download. These products are also competitors in the "streaming puck" market where Apple TV and Roku are the dominant forces. Amazon FireTV even has versions of their products that support over the air HD TV Signals or Games built for the Amazon Fire TV platform.
To make the platform robust and deployable and to go to market quickly, Amazon made the decision to base the platform on the Open Source Android operating system.
---
Subscribe to The DRM Blog and get the 2016 DRM Deployment Guide
---
From Wikipedia:
"While the Kindle Fire line has always used customized distributions of Android, particularly 2.3.3 (API level 10) (Kindle Fire) and 4.0.3 (API level 15) (Fire HD), Amazon only began referring to the distribution as Fire OS beginning with its third iteration of Kindle Fire tablets, which includes the Fire HD 2nd generation and Fire HDX models. Unlike previous Kindle Fire models, whose operating system is listed as being "based on" Android, the Fire HDX "FireOS 3.0" operating system is listed as being "compatible with" Android; FireOS 3 is forked from Android 4.2.2, (API level 17).[10][11][12] In the Fire HD (3rd generation) and Fire HDX (2nd generation) tablets, Fire OS 4 is included that is forked from Android 4.4.2 (API level 19).[13][14] Fire OS 4.5.1 is based on Android 4.4.3.[15][16] Fire OS 5.0 is based on Android 5.0 (API level 22).[17] " *
This is where things start to get ugly for Amazon and the Fire TV product line. By utilizing Android as their core platform, Amazon saved millions in engineering and startup costs. Using an Open Source version of Android gave Amazon a couple year head-start on building out the Fire TV ecosystem. As Google forged new frontiers in the deployment of Android, Amazon willingly benefited as a downstream licensee of the core open source Android platform.
Not all that glitters is gold and as of this past week and as Amazon is learning, Android is a realllllly great platform for 3rd party developers but good and bad. As it turns out, because the devices are small, cheap and easy to distribute, hackers have decided to focus on enabling the Fire TV stick to be the ultimate platform for consuming illegal content. With the addition of a very powerful media player platform called Kodi (Formerly XBMC), a user can access hundreds of hacked illegal apps that enable free unlimited access to a variety of formerly paid content sites like NetFlix, Hulu and others.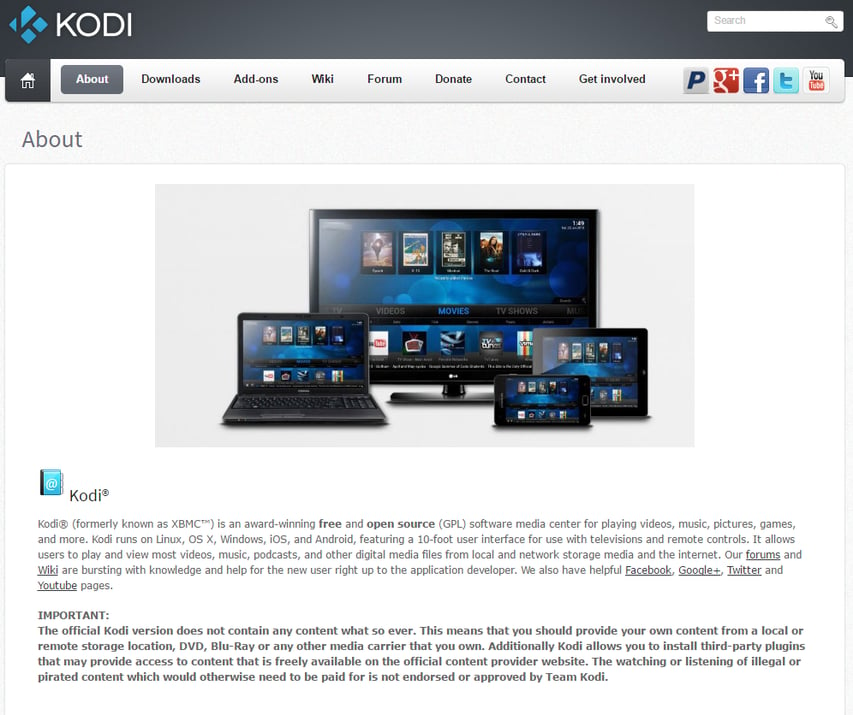 Numerous sites have covered both the throttling of bulk purchase of the Fire TV Sticks and/or hacking them to get free content:
https://www.thrillist.com/tech/nation/kodi-black-market-netflix-is-the-ultimate-streaming-hack
http://www.aftvnews.com/amazon-cutting-off-fire-tv-stick-sales-to-frequent-buyers/
https://www.reddit.com/r/Bestbuy/comments/44chov/limit_3_amazon_firesticks_per_customer_what_other/
But as of Friday last week, Amazon has stopped selling the Android Fire TV stick. If you go to Amazon.com and load the Fire TV stick sales page, the product is listed as "Currently Unavailable" with a notice to provide your email if you want an update when the product comes available. Don't hold your breath though.
https://www.amazon.com/Amazon-Fire-TV-Stick-Streaming-Media-Player/dp/B00GDQ0RMG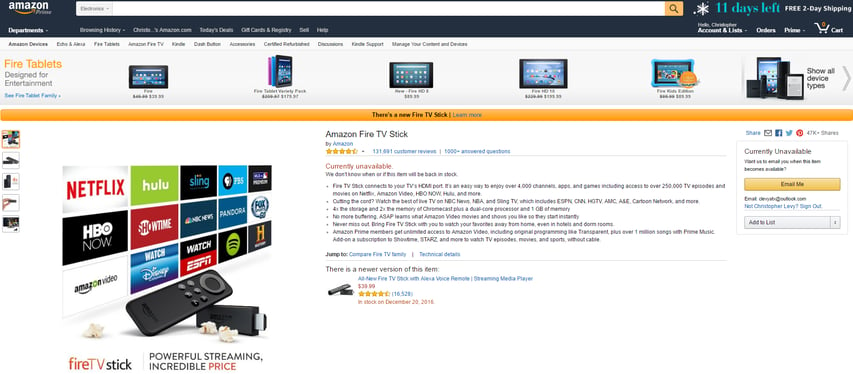 Apparently the platform has become such a huge channel for widespread piracy that Amazon has made the internal decision to stop selling the product TWO WEEKS BEFORE CHRISTMAS. This has to be a huge blow to the Amazon Fire TV Team. This product was selling like hotcakes. On July 12th of 2016, labeled "Amazon Prime Day" amazon sold over 500,000 Fire TV sticks and pucks.
But the reality is Amazon has made a clear decision to stem the flow of piracy on their platform. As a major content licensee to the tunes of $100M a year, Amazon knows that if they further enable the use of their platform in widespread piracy, they are endangering the lifeblood of their content distribution business where they have made significant investments in Amazon Prime Video, Amazon Music, the entire Fire TV brand and unnamed future live TV offerings rumored to be in the works.
What's odd in this situation is that the key driver here is the price of the Amazon Fire TV Stick. All of the Fire TV products use the same Fire OS 5.0 based on Android 5.0 (API level 22). But the Fire TV was selling for only $39.99 while the Fire TV puck, for example was selling for north of $90 and the gaming enable version was going for $130 and change. The small form factor and price of the Fire TV stick made it an ideal platform for the illegal distribution of premium content. You can now find the Jailbroken Amazon Fire TV sticks retailing for nearly 2X-3X their original price on various online sites including Facebook Groups.
The one thing that is perfectly clear here and should be stressed is that in no way did Digital Rights Management technologies, used to encrypt and protect premium video content, have anything to do with the misuse of the Fire TV stick platform. There is no evidence whatsoever that would support pointing the finger at DRM technologies as being the culprit here. Hackers are merely using the features built into Android to add a 3rd party application that does in fact provide a platform for illegal streaming applications. That's this entire situation in a nutshell. Until Amazon figures out a way to close the door on this option in the Open Source version of Android they are using, the Fire TV platform will be very vulnerable. We may soon see this Kodi outbreak extend to other devices in the Fire TV ecosystem. Only time and the market will tell.
But one thing is clear, let's not throw the baby out with the bathwater. DRM didn't cause this situation and is not the culprit.
* https://en.wikipedia.org/wiki/Fire_OS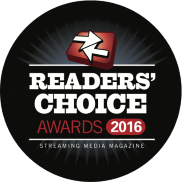 BuyDRM's KeyOS™ Multi-DRM Platform 2016 Recognitions
BuyDRM is proud to announce our inclusion in The 2016 Streaming Media 100: The 100 Companies That Matter Most in Online Video in 2016. This is our fourth consecutive year of being recognized as a top innovator in the field. BuyDRM was also recognized as the runner up for the 2016 Streaming Media Readers' Choice Awards for DRM/Access Control Service Providers, once again proving our solutions as being one of the most comprehensive and widely deployed in the world.

BuyDRM – Your Single Source for Multi-DRM Solutions
Offering PlayReady, Widevine, and FairPlay, we can help you deliver protected content to any device in any situation whether online or offline or both.
Established in 2001, we are a market-leading Multi-DRM service provider. Over the last fifteen years we have seen drastic changes in the content protection arena as a variety of new technologies have entered the marketplace. Through our pioneering efforts in this field and decades of experience in digital media, we have your bases covered with the KeyOS Multi-DRM Platform supporting PlayReady, Widevine, and FairPlay DRMs. KeyOS supports all of the popular consumer platforms and business models.
Want to Learn More?
If you are either just beginning your search or are a seasoned streaming media pro, we think our team can help you.
Contact us to learn more about our solution. We would be happy to setup a call to evaluate your scenario and find out how we can help you. Our consultations are always free. Our KeyOS platform powers the biggest names in media across the globe and we are eager to assist you as well.