and your Hulu, HBO GO, DirectTV Now, Starz Play, Max GO, Showtime Anytime and others.
Most of you have probably never heard of Cory Doctorow of the Electronic Freedom Foundation. Cory is a self-professed "science fiction author, activist, journalist and blogger… and the author of young adult novels.." who now works for the EFF as a "Special Advisor." The EFF is the leading nonprofit organization defending civil liberties in the digital world.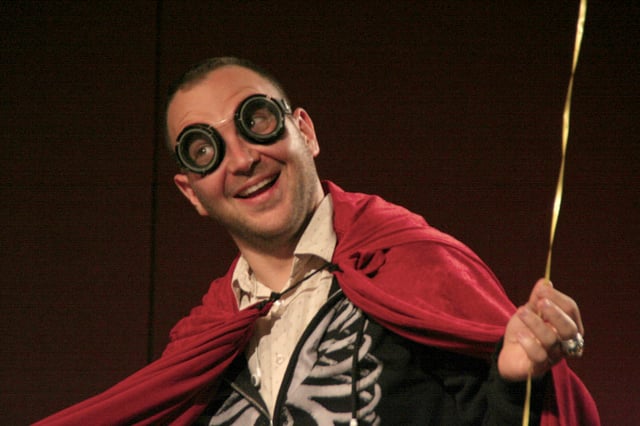 In a nutshell, the EFF and Cory both believe that Hollywood and content creators at-large, don't have the right to secure their digital media content using DRM. They profess that all content on the web should mostly be free because "DRM is bad" and doesn't enable security researchers to do their jobs. The EFF hosts an annual "Day Against DRM" where they go to publicly accessible stores where eBook readers or digital media consumption devices like PCs and tablets are sold, and protest against DRM.
Cory has recently turned very anti-DRM in his blogging and public presentations and recently said that "DRM laws help governments spy on people around the world." Cory recently called DRM an "invasive species…that has gone on to colonize nearly every category of software-enabled device, from thermostats to voting machines to cars and tractors to insulin pumps." Cory Doctorow and the EFF have begun a wholesale campaign of attempting to blur the lines between content protection software and the technology in various consumer home goods and transportation industries and the health industry. According to Cory and the EFF, all DRM is bad and prevents security researchers from doing their jobs. Now they are forcing their myopic viewpoints on the W3C's EME Working Group.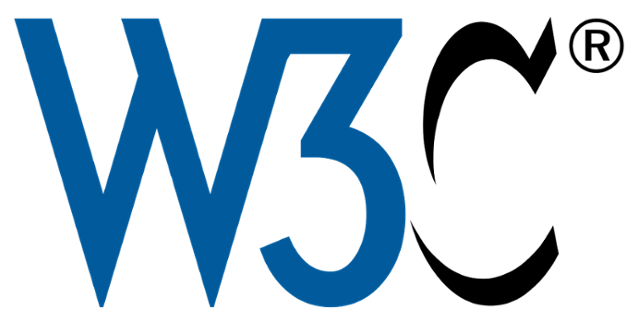 The World Wide Web Consortium, W3C for short, "is an international community that develops open standards to ensure the long-term growth of the Web." Back in 2014 the W3C created a group called the EME Working group to investigate moving DRM from 3rd party plugins and runtimes like Flash and Silverlight, to inside the actual browser. For a variety of reasons this concept took off like wildfire. Within a year Google (Widevine DRM), Microsoft (PlayReady DRM) and Apple (FairPlay DRM) had all implemented the EME Specification whereby DRM runs inside a Content Decryption Module inside a sandboxed area of the browser and 3rd party video apps like HTML5 players all interact with the CDM through an interface called an "Encrypted Media Extension" or EME. Even FireFox got into the action adopting EME support for Adobe's PrimeTime DRM and Google's Widevine DRM. For a matrix of browsers and DRMs supported with EME click here.
In 2015 most, if not all major media players like Netflix, HBO GO, Hulu, iTunes and others all adopted using EME as it had now become the de facto method to deliver secure HTML5 playback in the browser for DASH and HLS content. A whole ecosystem of new video players popped up including JWPlayer, Bitovin Player, THEOPlayer, Shaka Player, ExoPlayer and the DASH player all of which supported various combinations of formats and DRM using the EME Specification.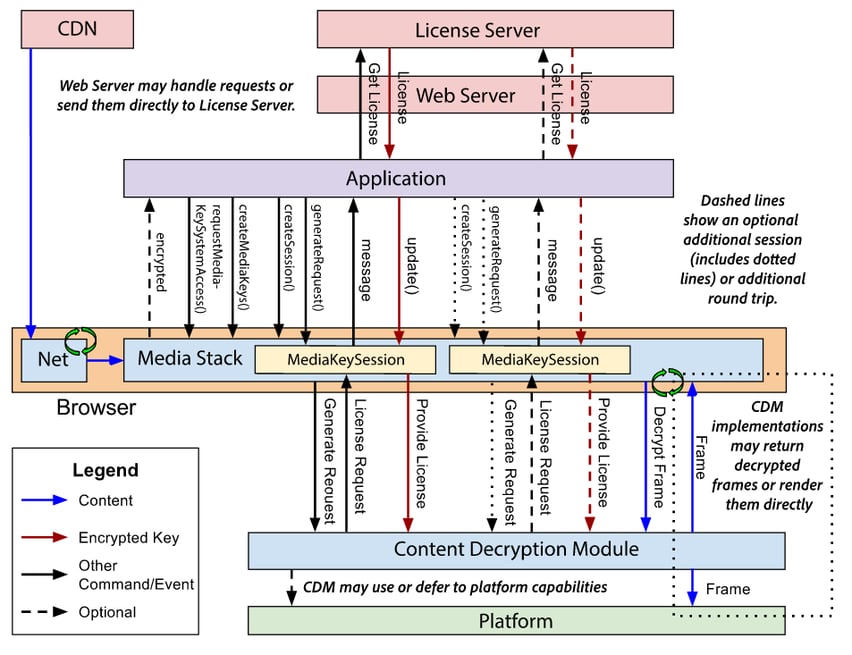 But now, Cory Doctorow and the EFF along with Ian "I hate DRM so much" Hickson (formerly of Google and now with the new unknown web standard group WHATWG) all want to end that boom in the secure distribution of digital media to all devices in all places. Together, they want to end the use of DRM in Digital Media through the Apollo 1201 project.
For those of you not familiar with the lingo, Apollo 1201 was an alarm in the Apollo 11 spacecraft's (the first to land on the moon) Guidance Computer which meant the main navigational computer for landing the Primary Guidance, Navigation and Control System (PGNCS) was not working because it ran out of memory. In essence, Doctorow, Hickson and the EFF are claiming that the web has lost it's guidance and that the W3C spec needs a reboot with a removal of DRM. Cory Doctorow, Ian Hickson and the whole myopic staff of the EFF have decided that you don't deserve to view your content in your browser on your device in the time and place you designate. They want to force you back to the stone age and force browser OEMs to go back to supporting plugins and runtimes and 3rd party software so you can't view your favorite NetFlix movie.
If the W3C removes EME from the HTML specification, the entire digital media industry will be thrown into a tumultuous flat spin with no clear pathway to resolution. One hundred million American consumers of online streaming and downloadable movie and TV content will no longer be able to watch their favorite content on their favorite devices in their favorite location. Because of a few, highly anti-social technical digerati security consultants, the entire streaming video, OTT and TVE industries will literally go dark.
To that end, we have begun a petition to prevent the EFF, Cory Doctorow and Ian Hickson from continuing to exert undue and unwarranted influence on the W3C and the EME Working Group's efforts. In the petition to the W3C, we ask them to renew the charter of the EME Working Group and allow them to continue their valuable work.
If you like to watch your videos where you want and when you want on the devices and platforms you choose, please take a moment to sign the petition and share the link out with people you think share your views:
Thank You.
Christopher Levy,CEO
BuyDRM
---
Subscribe to The DRM Blog and get the 2016 DRM Deployment Guide
---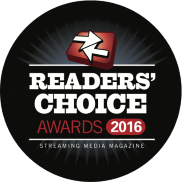 BuyDRM's KeyOS™ Multi-DRM Platform 2016 Recognitions
BuyDRM is proud to announce our inclusion in The 2016 Streaming Media 100: The 100 Companies That Matter Most in Online Video in 2016. This is our fourth consecutive year of being recognized as a top innovator in the field. BuyDRM was also recognized as the runner up for the 2016 Streaming Media Readers' Choice Awards for DRM/Access Control Service Providers, once again proving our solutions as being one of the most comprehensive and widely deployed in the world.

BuyDRM – Your Single Source for Multi-DRM Solutions
Offering PlayReady, Widevine, and FairPlay, we can help you deliver protected content to any device in any situation whether online or offline or both.
Established in 2001, we are a market-leading Multi-DRM service provider. Over the last fifteen years we have seen drastic changes in the content protection arena as a variety of new technologies have entered the marketplace. Through our pioneering efforts in this field and decades of experience in digital media, we have your bases covered with the KeyOS Multi-DRM Platform supporting PlayReady, Widevine, and FairPlay DRMs. KeyOS supports all of the popular consumer platforms and business models.
Want to Learn More?
If you are either just beginning your search or are a seasoned streaming media pro, we think our team can help you.
Contact us to learn more about our solution. We would be happy to setup a call to evaluate your scenario and find out how we can help you. Our consultations are always free. Our KeyOS platform powers the biggest names in media across the globe and we are eager to assist you as well.