As fuboTV's global fan base and channel variety increases, so does the need to find a high-performance solution that allows for a seamless customer experience across different platforms. With that in mind, fuboTV partnered up with online streaming solutions provider Bitmovin and leading Digital Rights Management (DRM) provider BuyDRM in order to take their online service to the next level.
Thanks to their channel selection – with special attention to the highly sought-after sports content – focus on providing the best customer experience, and fearless ad campaigns, upstart streaming TV service fuboTV has garnered and maintained a considerable fan base. They've cemented their position as a successful and reliable alternative to top digital rights management companies like YouTube TV, Amazon, and DirecTV. To keep them afloat against such powerful competitors, fuboTV needed an edge: a video player that would provide the customer with a fast and reliable service, without buffering and overlong startup times, combined with the best resolutions (up to HD and 4K) and the ability to not only switch channels with cable-like speed, but also "juggle" around different platforms and devices with ease.
To tackle these issues and in order to achieve the best results, fuboTV established a partnership with Bitmovin and BuyDRM to take advantage of the best online streaming technology currently available. Building on the two companies development team's know-how, as well as their integration, speed, and effectiveness, fuboTV was able to integrate a cross-platform Video Player with cloud-based encoding and encryption. This upgrade was only made possible thanks to the combination of Bitmovin's Encoding Service and BuyDRM's reliable multi-DRM tools, namely KeyOS Encryption Key API and the KeyOS MultiKey service (more on that here: https://www.buydrm.com/multikey)
According to fuboTV co-founder Sung Ho Choi, this partnership "has been great to work with. We were able to rely on them to become an extension of our engineering team." Sung Ho Choi feels that their service was given "greater control over the player than any other player in the market. We were able to get our implementation to production with markedly better experience than our previous player" and expressed fuboTV's desire to continue this partnership: "we're looking forward to exploring more ways to work together."
What is DRM?
DRM stands for Digital Rights Management, a system through which content owners can control the way their content is consumed. This system includes several different stages, which combine encoding, encryption and authentication processes with storage and playback technologies.
BuyDRM™ is a leading provider of DRM and Content Security Services for the entertainment, enterprise, transportation and education industries with customers spanning the globe. With 17 years of market-leading experience implementing commercial DRM solutions and media technologies, BuyDRM has amassed substantial success stories for many of today's largest brands.
Find out more about BuyDRM's multi-platform services here: https://www.buydrm.com/contact
---
The KeyOS Widevine Everywhere Program
Find out more by clicking below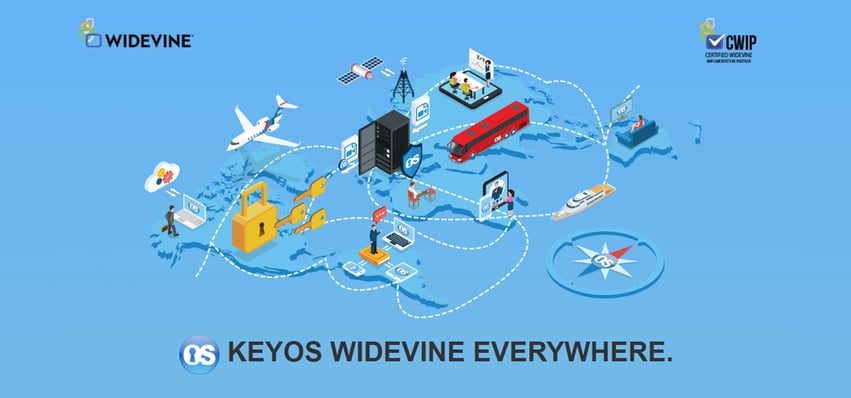 ---
View Past Episodes From Our "Spotlight On DRM" Webinar Series
---
BuyDRM – Your Single Source for Multi-DRM Solutions

Offering PlayReady, Widevine, and FairPlay, we can help you deliver protected content to any device in any situation whether online or offline or both.
Established in 2001, we are a market-leading Multi-DRM service provider. Over the last fifteen years we have seen drastic changes in the content protection arena as a variety of new technologies have entered the marketplace. Through our pioneering efforts in this field and decades of experience in digital media, we have your bases covered with the KeyOS Multi-DRM Platform supporting PlayReady, Widevine, and FairPlay DRMs. KeyOS supports all of the popular consumer platforms and business models.
Want to Learn More?
If you are either just beginning your search or are a seasoned streaming media pro, we think our team can help you.
Contact us to learn more about our solution. We would be happy to setup a call to evaluate your scenario and find out how we can help you. Our consultations are always free. Our KeyOS platform powers the biggest names in media across the globe and we are eager to assist you as well.